"This Dude Is An Absolute Freak Of Nature"
September 11th, 2021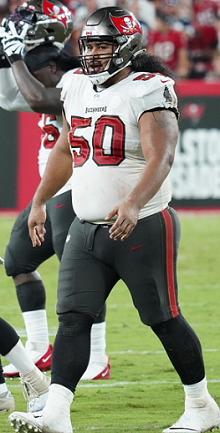 High-profile radio and TV love was on display for Vita Vea yesterday.
Vea didn't make a play on Thursday night, but he played well. And given the widely held perception the Cowboys have a special offensive line, his manbeastly ways stood out to those less familiar with the Bucs.
One of those onlookers was Jim Rome of The Jim Rome Show. 
Rome was all over Vea to start his chatter Friday on the Bucs' dismantling Dallas. No, not Tom Brady or Gronk talk, it was Vea who led the show.
"This dude is an absolute freak of nature. In a league of athletic freaks, he is an outlier – 1 of 1," Rome ranted.

"There is nobody like him because he was just bullying the Cowboys on the inside, ragdolling fools, bull-rushing them, treating grown-ass men like children."
Rome suggested Vea is the nastiest defensive player in the NFL.
"No gloves. No braces. No tape. No nothing. Bare hands," Rome barked. "And just mauling and embarrassing and humiliating guys. Again, like a grown-ass man throwing around and abusing a bunch of high schoolers. And when he's not bullying guys on defense he's trucking fools on offense and enabling his team to pick up key first downs."
Joe's glad Rome mentioned barehanded Vea. He's previously played with a club and some wraps, but he's back to being natural man, which is very cool.
And Rome also said what Bucco Bruce Arians has been thinking a lot about. "Let the big dude toto the rock himself."
You can watch the full rant on YouTube here. Or just don't waste the time and read something else on the home page.