Former MVP Impressed By Tom Brady"Arm Whip"
September 11th, 2021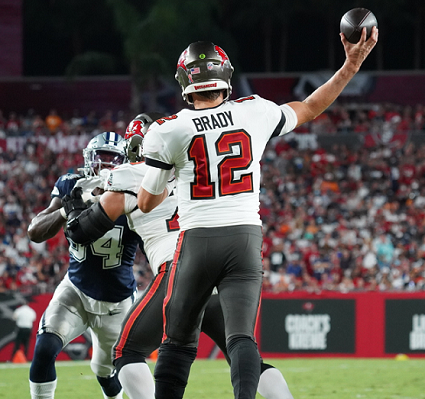 Nobody is harder on quarterbacks than a former quarterback. But those same analysts also will be quick to gush when they are truly impressed.
Former NFL MVP and Super Bowl QB Rich Gannon was in that latter category Friday morning when it came to Tom Brady the thrower. Heck, Gannon's mind was there Thursday night as Brady dissected the Cowboys.
Speaking on SiriusXM NFL Radio, Gannon talked about quarterbacks in their late 30s struggling to find power on deep out routes and other throws.
Gannon said he saw 44-year-old Brady spraying balls with a fountain of youth as his engine.
"His arm looks so lively," Gannon said. "… He has done an amazing job of taking care of not just his body, but particularly that arm. …

"I just see his arm whip. Some of those throws down the seam to Gronk, and some of those throws to Antonio Brown, the throw to Chris Godwin. His touch has always been terrific, but when he wants to put his foot in the ground and drive a ball, he can still do that."
Gannon said he read Brady's TB12 book and spoke of Brady's process of "lengthening muscles."
Yes, it was a full session of gushing from Gannon, which isn't a typical thing.
Brady's lack of panic in key moments continues to impress Gannon, as well as how Brady is one of the few people in the game that have ever changed teams and "elevated an entire organization" on a daily basis.