The Tyler Johnson Revival
September 26th, 2021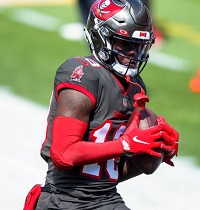 Joe was glad to see Tyler Johnson re-emerge today as a capable and dangerous weapon in the Bucs' passing attack.
Tom Brady even went to him in the end zone in the fourth quarter (uncatchable ball).
Johnson got six targets and hauled in three for 63 yards. He seemed in good sync with Brady, as well. The timing looked good.
Through the first two games, with Antonio Brown available, Johnson played just 20 snaps total and had one catch for five yards. Today, Brown was out on the COVID list.
Johnson standing out really highlighted the Bucs' sick depth at receiver, but Joe was more impressed by Johnson's readiness. He turned 23 last month and has overcome screwing up and coming to 2021 training camp out of shape.
Joe still remembers The Lost Decade and Bucs receivers who never really looked the part. Johnson, a fifth-round pick, certainly isn't one of those guys.
The Bucs got kicked in the teeth today by the Rams, but Joe's seeing plenty of positives — on one side of the ball.