More Needed From Devin White
September 26th, 2021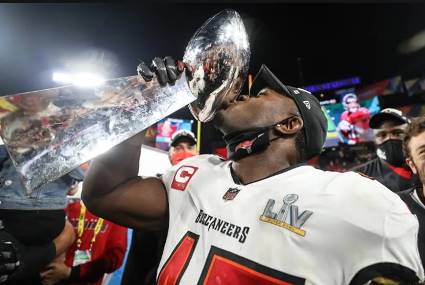 Joe got used to seeing Devin White dominate during the final three games of last year's playoffs.
The Buccaneers' Super Bowl champion savior linebacker was a manbeast, shot out of a cannon after two weeks off on the COVID list.
He's a big reason the Bucs won the Super Bowl and the sky is the limit for the 2019 first-round pick.
But through three games this season, White doesn't look like the same player who was rolling around in confetti at The Licht House in February.
Yes, White is good and special, but Joe and loads of other Bucs fans are counting on him taking a step forward this season and so far Joe isn't seeing it. And Joe's not seeing a lot of leadership on defense from anyone.
Some fans will find this unfair, but Sage JoeBucsFan.com columnist Ira Kaufman and others were barking this summer about White making his mark this season and becoming an unquestioned All-Pro while grabbing full control of the Bucs defense as its unquestioned leader.
That's not what's happened through three games.
Joe's not blaming White for what ails the Bucs defense, but the Bucs are going to need White to elevate his game big-time if the secondary can't fix itself and heal, and older defensive players can't kick their games up a notch in a 17-game season.
Joe hopes to see a monster game from White up in New England next Sunday.
White's the kind of player who can put a defense on his back a few times a season.
It's time.