The Morning After
September 27th, 2021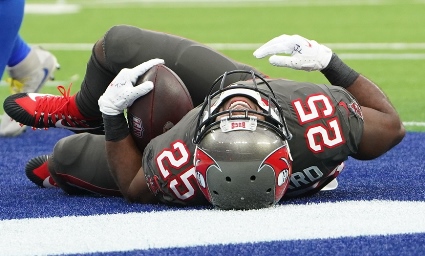 A lot of meat on the bone to gnaw on. So let's get to it.
Cornerback shopping
The Bucs proved to be mortal. At least the defense. Well, that was less than mortal. It reminded Joe of the rodent-like play of Mike Smith's defenses not that long ago, which were some of the worst to ever take an NFL field — and that's no hyperbole.
The Bucs' pass rush struggled yesterday. No real shock given that Jason Pierre-Paul was watching from a waterfront watering hole nursing his sore shoulder.
The injuries are mounting and Joe fully expects a transaction in the next two weeks to address this, especially if Jamel Dean's knee injury might mean a trip to the injured reserve list.
Sure, Richard Sherman would be nice but perhaps a lousy team might want to unload a cornerback who happens to be on the final year of his contract. Those guys (not counting his salary) often come at a discount.
(Think defensive tackle Steve McLendon. The Bucs traded for the veteran on the cheap last October because he was in the final year of his Jets contract.)
If the Bucs can swing it, obtaining two corners might not be so bad. People were going nuts at Bucs defensive coordinator Todd Bowles on Twitter yesterday but what was the guy supposed to do? He was working with a collection of a rookie, some never-beens and glorified practice squad cats due to injuries.
Bowles is a good coach but he's not a GD magician. He can't simply snap his fingers and turn Dee Delaney into Darrelle Revis.
If the Bucs plan on the playoffs, Bucs AC/DC-loving general manager Jason Licht simply will have to find extra bodies, veteran bodies, competent bodies to help out the secondary.
Otherwise, all of his tremendous A+ efforts (and Team Glazer loot) to retain the 22+1 starters from a Super Bowl champion will vanish in the humid Florida air.
Where's the Pass Rush?
Look, before Joe gets going here, Joe loves Shaq Barrett. One of Joe's favorite players. And given his background, he had so many opportunities to throw in the towel on his football career and make a wrong turn in life. Shaq is the kind of guy you want to succeed.
However, in the past two seasons, Joe has sensed a pattern: If Jason Pierre-Paul is hurt or cannot play, opposing teams neuter Shaq. If he is double- or triple-teamed, he is often simply taken out of games. When he gets single-coverage, he shines.
Well, as Joe pointed out earlier in this piece, JPP was at a waterside watering hole watching yesterday — the video should still be up on JPP's Instagram stories account unless he already deleted them. (For those unfamilar with Instagram stories, the videos/photos on someone's feed generally have a 24-hour expiration date).
The only thing worse than cornerbacks being unable to cover and getting thoroughly worked over is when a defense cannot get a pass rush. It was the perfect storm.
Initially, rookie Joe Tryon-Shoyinka looked like he was going to have a nice day. After the first couple of Rams' possessions, he kind of blended into the background.
Anthony Nelson, did you even know he played?
And if JPP cannot go Sunday night, Joe isn't expecting the defense to improve all that much, though you hope Bowles' exotic defenses might confuse rookie Belicheats quarterback Mac Jones to make a few mistakes.
So not only do the Bucs need corners, they need JPP back in the worst way. Either that, or JTS needs to turn the corner — like, now. And that's probably an unfair expectation.
Wither Scotty Miller?
Scotty Miller is another guy Joe is starting to wonder about. After last year, it sure looked like he would be the heir apparent to furniture-tossing, bicycle-throwing Antonio Brown as the guy to take the top off a defense.
So Joe wasn't sweating too much when Brown couldn't clear the COVID protocols this week. Joe figured Scotty Miller would do a decent job.
Instead, Miller hardly played. Miller was targeted three times and had two catches for 11 yards. That's not how you use a deep threat.
Joe doesn't know if this is some weird continuation of this summer. Go back in the (free) archives and read Joe's training camp practices notes. On several days, Joe documented the Bucs had Scotty Miller running a lot of inside routes and short routes.
Joe wrote he thought this was a waste of Miller's skillset. He is a little guy who not only will get killed over the middle, he cannot block. So why not use him at his strength and let him go deep?
Yesterday seemed a continuation of this. Yeah, yeah, you want a well-rounded receiver. Having Miller run inside or short routes is setting him up to fail.
Joe understands Raheem Morris' defense takes away the long ball. But having Miller run short routes just seems to be misusing him. He won't break many tackles and he's not a physical receiver like Chris Godwin or Tyler Johnson.
Third Down Lay Down
The Bucs were awful yesterday on third down defense. The Rams converted 66 percent (10 of 15) of their third downs, which is borderline obscene.
When you can't get off the field on third down, you are likely going to lose.
But you know what? Joe cannot get too worked up about this. A Google search shows the following teams are also rotten on third down defense: Kansas City, Green Bay, Los Angeles Chargers, Los Angeles Rams, and the worst team in the NFL for third down defense? The Cleveland Browns.
So the Bucs are in some good company there. The combined records of those teams (including the Bucs) is 12-6. So Joe cannot lose too much sleep with this, especially the way the Bucs can score points.
Rotten Run Game
The Bucs' rushing attack has turned into a flat out joke. As the Sage of Tampa Bay sports, Ira Kaufman, pointed out, the Bucs this season have more penalty yards than rushing yards. Joe isn't sure if that says more about undisciplined play or the running backs being so unproductive.
After seeing Tom Brady lead the team in rushing (14 yards) and Playoff Lenny and Ronald Jones averaging two yards a carry, that's enough. With this offensive line a guy could fall forward and get two yards.
Joe's reached the limit with the Bucs' coaching staff coddling Ronald Jones and his fragile psyche. Bucs coaches have worked with him on his confidence going on three years. Enough.
It's time for RoJo to either man up or step aside. Joe has a hunch Ke'Shawn Vaughn can average two yards a carry. And Joe also suspects that Vaughn won't step out of bounds a yard short of a first down rather than lower his shoulder and fight for a yard. And Joe suspects Vaughn won't ole on a block and get his quarterback maimed. And Joe will bet Vaughn won't mope so badly on the sideline of a nationally-televised game after a mistake that the coach will bench him because his head is so messed up.
But, Joe has to be fair: Bucs offensive coordinator Byron Leftwich is not doing Playoff Lenny and RoJo any favors by always running these guys up the gut on first down. If a drunk in a bar knows it's coming, what do you think NFL linebackers are expecting?