Ira Kaufman's 10 Takeaways From Bucs-Rams
September 26th, 2021
BY IRA KAUFMAN
When Tampa Bay comes up short, Bruce Arians typically explains it away with the phrase "Bucs beating Bucs."
Not this time.
The Rams were 10 points better than the visitors on Sunday and even the most ardent Buc supporter has to acknowledge it wasn't that close.
The Bucs weren't terrible at SoFi Stadium — the Rams were superb. For the second consecutive year, Sean McVay got the best of Todd Bowles as Tampa Bay's defense couldn't get off the field.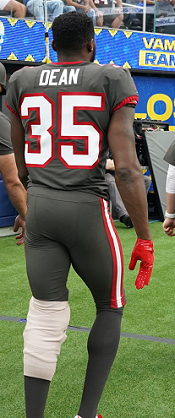 Los Angeles was flagged for only one penalty for four yards and the Rams didn't turn the ball over, never trailing and never allowing Tom Brady to look comfortable in the pocket.
Meanwhile, Matt Stafford had enough time to survey the star-studded crowd and pick out the celebrities from the posers.
The 10-game winning streak is history as Tampa Bay suffered its first road setback since that frustrating night in Chicago when Brady lost track of downs.
Give the Rams a ton of credit. They reeled off four touchdowns and two field goals during a six-possession span that kept them unbeaten. They also opened up a gap against the Bucs if the teams end up vying for seeding in the NFC playoffs.
If you saw McVay running around like a giddy schoolboy during recess at the conclusion of the opening half, you knew how much this game meant for validation. A defense orchestrated by Raheem Morris didn't exactly throw a blanket over Tampa Bay receivers, but Brady's only TD pass came with the game out of reach.
Here's how the Bucs fell a game behind the surprising Panthers in the NFC South:
* Third-down defense continues to torment Bowles through three games. Opponents have converted 25-of-47 on the money down while the Buc pass rush has gone bankrupt. Stafford was masterful in making smart decisions and the lack of pressure on key downs was painfully evident in La La Land.
* Can someone on this team cover Cooper Kupp? The guy's a smooth route runner, but he has tormented this secondary unmercifully for two years running, catching 20 of the 25 passes sent his way for 241 yards and two scores.
* The Bucs didn't have a giveaway, but there were some big-time mistakes. Mike Edwards, last week's fourth-quarter savior, fell down on DeSean Jackson's 75-yard TD catch at the start of the second half.
*Bradley Pinion, so solid during the 2-0 start, shanked a 15-yard punt from his own 22, setting up a FG and a 31-14 Rams lead late in the third quarter.
* There's no polite way to say this: Shaq Barrett is not playing up to his contract. The Bucs showed him the love in the offseason and he has not repaid their faith. He registered one QB hit on Sunday, which was one more than he posted vs. the Rams last November. He needed to step up with Jason Pierre-Paul sidelined. Didn't happen.
* This sounds preposterous, but it's true. In each of the three games, the Bucs have generated more penalty yards than rushing yards. The count is 230-169 in favor of penalty yardage and this nonsense has to stop.
* Brady is on pace to throw 799 passes this season. That's a ridiculous number and there's a long way to go, but it's not ideal for a 44-year-old man to be averaging 47 pass attempts. That's too much pressure on an offensive line that held up fairly well against Aaron Donald and company.
* Arians keeps preaching offensive balance, but it's not happening. Between them, Ronald Jones and Leonard Fournette carried only nine times. Brady was Tampa Bay's leading rusher with 14 yards. You can get away with being one-dimensional against the Cowboys and Falcons. In the City of Angels, you can't just wing it.
* This battered defense needs to reclaim its mojo at Foxboro, where rookie quarterback Mac Jones is coming off a mistake-prone effort vs. the Saints. Tom Brady's return to New England will assuredly dominate the headlines, but the bigger story for Buc fans is whether Bowles can return this unit to past glory against a pedestrian attack.
* Who played well for the visitors? Here's the short list – Mike Evans and Ross Cockrell.
* Opponents are coming out of the halftime tunnel and burying the Bucs. Tampa Bay has been outscored 42-24 in the third quarter, so 48 percent of the points allowed by the Bucs through three games have come in the 15 minutes following intermission. Translation? So far, the Bucs seem to be losing the adjustment battle.