That Was Then; This Is Now
September 29th, 2021
BY IRA KAUFMAN
@Ikaufman76
Another message from Tom Brady, another Buc in the fold.
That's the way of the NFL world at the moment as the Brady Effect crosses all time zones and contract negotiations.
No. 12 drops a dime and the next thing you know, Richard Sherman is exchanging high fives with Jason Licht and Bruce Arians.
It's another brick in a wall Brady has erected at One Buc Place.
Rob Gronkowski is out of football, loving his retirement. Poof. Brady reaches out, the Bucs work out a deal with the Patriots and Gronk signs on the bottom line.
Antonio Brown, come on down.
Giovani Bernard, come on down.
Now Sherman has heard the siren song.
It's the latest example of how a 44-year-old quarterback has thoroughly reshaped this roster in the past 18 months.
Need proof?
In 2019, when Arians replaced Dirk Koetter as head coach, Tampa Bay's roster featured only six players in their 30s. Only three starters — Demar Dotson, Ndamukong Suh and Jason Pierre-Paul — were older than 29.
Check out the current scene. One Buc isn't an old age home, but this is the oldest roster in the league.
There are currently 16 players on the Bucs who are 30 years old or older — Brady, Cameron Brate, Ross Cockrell, Lavonte David, Blaine Gabbert, William Gholston, Gronkowski Ryan Jensen, Steve McLendon, Kevin Minter, Pierre-Paul, Sherman, Ryan Succop, Suh, Carson Tinker and Josh Wells.
When Brown returns off the COVID list, he'll be the 17th player, nearly one-third of the roster, who has turned 30. Yes, that's a big number.
Let's look around the rest of the division. The Saints and Falcons each have eight players in their 30s. The unbeaten Panthers have only five.
There was a time, not long ago, when this organization would have had scant interest in signing a free agent like Sherman, who turned 33 in March. The accent was on youth, building a team from the ground up and letting those players grow together.
That was then, this is now.
That was before Brady opened the door at One Buc Place and closed all those windows Joel Glazer used to talk about. Age is no longer a consideration — especially if Brady is on board.
Whether it's a 2-minute drive at the end of a game or a phone call to a Buccaneer person of interest, this guy's the ultimate closer.
Sherman never had a chance. He was summoned to Tampa and was soon helpless against press coverage.
Arians and Todd Bowles talked about schemes, Licht focused on the contract details, but it was Brady who made the closing argument. It was a beauty. "How would you like to add another Super Bowl title to your resume, Rich? We need a little help in the secondary … I'll take care of the rest."
As usual, Brady's timing is exquisite.
Sherman joins the Bucs in the days leading up to Brady's return to Foxborough, where Bill Belichick's Patriots are 1-2, averaging only 18 points per game behind a rookie quarterback. It's a chance for Brady to stick it to Belichick, up close and personal.
"I mean, the guy can still play," Brett Favre said on his SIRIUSXM NFL Radio show.  "And I think we're kind of seeing who meant the most to that organization in his tenure there.  I think Bill's an excellent football coach, but they're not the football team that they once were."
Neither are the Bucs, whose veteran-laden roster is a testament to their forever young leader.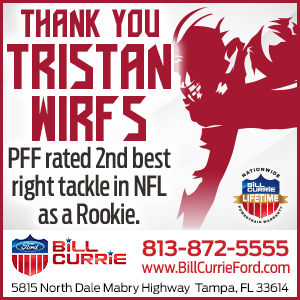 ---
Enjoy The Ira Kaufman Podcast, presented by Bill Currie Ford.

---