Snaps Tumble For Vita Vea And Ndamukong Suh
September 27th, 2021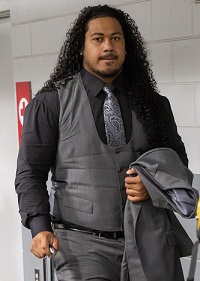 Joe always thought the idea is to have your best players on the field.
Yesterday, manbeast interior linemen Ndamukong Suh and Vita Vea each only played about half the game in the critical NFC clash against the Rams. Suh played 34 snaps (52 percent) and Vea had one less.
By comparison, 30-year-old Aaron Donald played 60 snaps (82 percent of the Rams plays).
Joe's not sure what the heck is going on with Vea. He played 54 snaps in Week 1, 42 in Week 2, and 33 yesterday. And Joe would say Vea has been the Bucs' best defensive lineman. Heck, it was cool and comfortable in Los Angeles.
Suh's significant cut in play this year is understandable given his age, and it may have been a condition of him returning to the Bucs this season.
Yeah, Joe suspects there's an intelligent reason at One Buc Palace, but Joe also suspects the whole truth might not be forthcoming.