Scouting, Ranking Cowboys Receivers
September 5th, 2021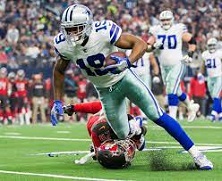 Joe believes only members of the Bucs defense would be surprised if Tampa Bay punishes the Cowboys 40-28 on Thursday night.
Dallas has big-time weapons and is in Year 2 under its offensive guru.
Mike Evans addressed the Cowboys' receiver trio of Amari Cooper, CeeDee Lamb and Michael Gallup after practice today.
Obviously, Evans thinks no team has three receivers as good as the Bucs' big dogs, but he placed the Dallas trifecta very close by.
"They're all great receivers. They can run all the routes, you know, all of them. CeeDee's young in the game but he's a really polished receiver already. Amari, his routes are unbelievable. Michael Gallup can take the top off," Evans said. "They're a really good bunch. I think they're top-3, top-4 in the league, if I had to choose out of, you know, trios."
It's a great test ahead for the GraveDiggers. (Yeah, Joe thinks it's unrealistic for the defense to match what it did in the Super Bowl in Week 1.)
But Joe suspects a rusty Dak Prescott will serve up a few gifts on Thursday, hopefully the Bucs' secondary squeezes them tightly.