Mike Evans Finished "Smarter" Offseason
September 5th, 2021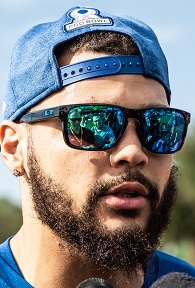 When Mike Evans would finish past seasons, he would mow down all kinds of food, gain a bunch of weight and take time off.
Joe calls that "the weekend."
Evans explained after practice today how his routine has changed over the past two years, especially in 2021.
The greatest receiver in Bucs history said he now hits the gym and his fitness focus sooner, more often and smarter.
Evans said he was getting up to 240 pounds in past offseasons and then would drop 15 pounds to get to his playing weight. Now he's all about keeping that weight year-round. After the Super Bowl, Evans said he took two weeks off and was right back with his trainer and eating right.
Joe wrote last week about Evans being primed to dominate this season for a variety of reasons. Today's Evans chatter adds more nugget on the scale.