Rough Coach's Review For Jaelon Darden
September 29th, 2021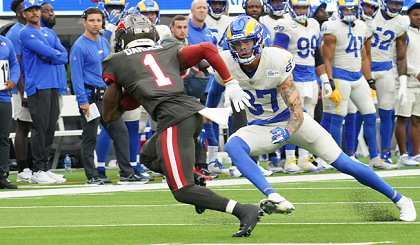 Joe threw an empty Bromosa beer can Sunday when rookie returner Jaelon Darden appeared to trip over nothing.
Joe was a bit frustrated after Darden prevously had taken a kick return wide rather than opt to hammer what appeared to be an inside lane.
It was the fourth-round pick's first action of the season, so it's understandable. Maybe nerves got to him, but Joe also hasn't seen much of the retuner instincts in Darden that were touted by the Bucs power brokers in spring and summer.
Bucco Bruce Arians reviewed Darden on his Buccaneers.com audio show yesterday, and the head coach seemed lukewarm on Darden on fourth down, and on offense.
"I thought he handled the ball really, really well as far as the punting game and the kickoff return. He stretched it pretty good — just learn to hit it. It's a little different speed than preseason when you're playing against the really good guys. He had a chance to really hit one on an kickoff return and he ran all the way around the corner. But I thought he handled the ball well. Receiver-wise, he's still got a ways to go. And he's got time. He's got time to get better."
Joe's not sure Darden could have done anything differently on the wide receiver screen he caught for no gain. He was swallowed up in a hurry. Darden got two other snaps Sunday with the offense.
Top Bucs returner Jaydon Mickens was out Sunday with an abdomen injury. His status should be updated later today.
@JoeBucsFan Sipping the "official beer of the podcast", @BigStormBrewing #Bromosa 🍺☀️🌴🍊🌀 pic.twitter.com/fxwUYYjAKI

— Dave Estel™ (@DiggityD78) August 8, 2021