"Our Guys Are Winners"
September 10th, 2021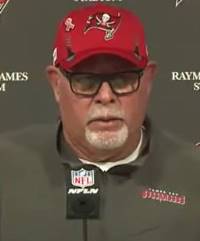 It didn't take long in his postgame remarks for Bucs Super Bowl-winning coach Bucco Bruce Arians to speak the phrase of the decade about his team.
"Our guys are winners."
The Bucs were very sloppy Thursday night to open the season against the Cowboys. They should have lost. But they found a way to win.
Through The Lost Decade, the Bucs found ways to lose. Just about every imaginable way possible.
Maybe the best/worst was Swaggy Baker jumping offsides at Carolina, which precipitated a near-brawl in the postgame locker room as Swaggy mocked his teammates for giving a damn about winning.
Joe, aside from a couple of players the Bucs acquired from Washington, wasn't about to call the Bucs "losers," but the fact is they didn't know how to win.
Last year proved this team is full of winners and knows how to win. That was demonstrated before a national TV audience last night.