Ira Kaufman's 10 Takeaways From Bucs-Falcons
September 19th, 2021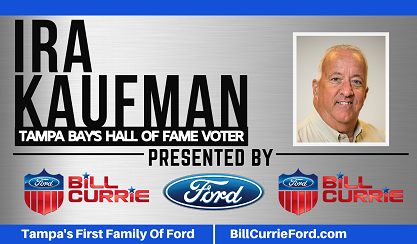 BY IRA KAUFMAN
Mike Edwards had himself a day — and the Bucs needed every bit of it to subdue the pesky Atlanta Falcons.
A hamstring injury to Jordan Whitehead has opened the safety bolt on the door for Edwards, who cracked it wide open Sunday with a spectacular performance in a 48-25 victory. Once again, Tampa Bay had more penalty yards than rushing yards, leaving Bruce Arians happy but a bit frustrated.
The Bucs are 2-0 heading to Los Angeles, where Aaron Donald and the unbeaten Rams will try to slow down Tom Brady's historic roll.
Matt Ryan never stopped fighting for Atlanta, which was outmanned but not outworked.
Tampa Bay won because the Bucs have better players, but that might not be the case in Week 3. There are issues to clean up, but Edwards made a bold statement that this defense has yet another playmaker for Matt Stafford to worry about.
Monte Kiffin, honored at halftime, was surely proud to see Edwards capitalize on his opportunity as Tampa Bay picked off Ryan three times in the second half.
The Buc rushing defense was typically stellar but Ryan managed to complete 35 passes, 10 days after Dak Prescott shredded the Bucs for 42 completions.
Rob Gronkowski continued his torrid start, Mike Evans joined the party and Chris Godwin added a critical TD catch after Atlanta pulled within 28-25 late in the third quarter.
On a day the Saints came back to Earth, the Bucs stayed on Cloud 9, running their winning streak to 10 games. With the help of Sunday's two defensive scores, they are averaging 39.5 points per game.
Godwin and Brady both said the Buc offense has plenty of room for growth, so let's see if Donald, Jalen Ramsey and crew can derail this express train.
Here's how the Bucs used a 20-0 fourth quarter burst to beat back the Falcons — covering the sizable spread in the process:
* At this rate, Brady is on course to throw 76 or 77 TD passes. That's not going to happen, of course, but Peyton Manning's NFL mark of 55 TD throws appears to be in serious jeopardy. Brady reiterated that he feels far more comfortable with the playbook in Year 2 and he's been magnificent in the red zone through two games.
* Edwards sealed the win with a pair of pick-6s after Godwin's 12-yard scoring catch opened a 10-point advantage. He added four tackles and three passes defended, making a compelling case to safeties coach Nick Rapone for more playing time, Whitehead is the big hitter in this secondary, but Edwards has the ball skills Rapone and Todd Bowles can't ignore.
* Dating back to the Super Bowl, Gronkowski has two TD receptions in three consecutive games, all at Raymond James Stadium. He has been targeted 13 times this season and 12 of those balls ended up in Gronk's hands as completions. And the man blocks. No wonder Brady says it's a privilege to play with No. 87.
* Arians went out of his way during the week to name Ronald Jones as his starting running back, but Jones finished with six carries, only two in the second half of a game Tampa Bay never trailed. At this point, you have to wonder about the confidence level Jones will bring to the City of Angels. It didn't help Jones' cause when he missed a block on blitzing linebacker Deion Jones for a sack.
* The Falcons owned all the momentum as the fourth quarter opened, forcing a punt with the Bucs clinging to a 3-point lead. Bradley Pinion delivered a booming 57-yard kick to the 4-yard line and on third-and-1 from the Atlanta 13, Rakeem Nuñez-Roches dropped Cordarrelle Patterson for a 3-yard loss. Patterson had already burned the Bucs with a TD run and a TD catch before the key stop.
* Devin White hounded Ryan as a blitzer in 2020 and Bowles tried to spring him loose on several occasions Sunday. Ryan spun away from White more than once, but White managed to register three of Tampa Bay's seven QB hits.
* Although Atlanta posted three sacks, there were times when Brady had more than enough time to run through his progressions. It's hard to quibble with a guy who just threw five TD passes, but Brady was guilty of some missed opportunities, including an overthrow to an open Mike Evans on a deep route midway through the second quarter.
* Kiffin appeared overjoyed during a halftime ceremony as he joined the Ring of Honor. Appropriately, his name is next to Tony Dungy in the southeast corner of the stadium — props for two defensive masterminds who helped turn around a moribund franchise. Nice to see Warren Sapp, Derrick Brooks and Ronde Barber on hand to salute their guru.
* The Bucs used to be a team that scored three points at a time. Times have changed. Through two weeks, Tampa Bay has 11 touchdowns and one FG. Yes, those are winning numbers.
* Arians may bring in the officials during practice this week because 20 penalties for 189 yards indicates a lack of discipline during a 2-0 getaway. Ryan Jensen and Carlton Davis were each nailed for overly aggressive play Sunday and the Rams are good enough to make you pay dearly for brain cramps.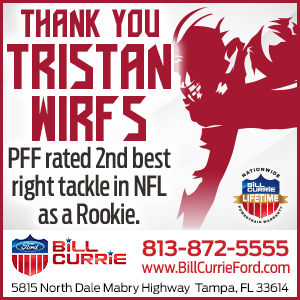 ---
Watch the Bucs-Rams game with Ira Kaufman on Sunday at Big Storm Brewery in Clearwater, 49th Street just south of Ulmerton Road!  More than 3,000 square feet of covered outdoor seating with A+ food, Florida's best craft beer and great sight lines and audio. Or sit inside!!