Heroes On The Offensive Line
September 10th, 2021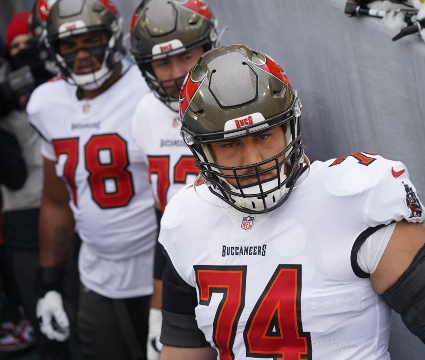 Take a bow, Donovan Smith.
But really, the entire Bucs' offensive line deserves major love for tonight's performance.
How many times was Tom Brady sacked? Zero.
How many hits did Brady absorb? Just two.
That's damn near perfect for a largely immobile quarterback who attemped 50 throws.
General manager Jason Licht should be conferencing calling Team Glazer and screaming, "You like that?!?!"
Joe can't wait to watch the reply and study the fun. Yeah, Dallas doesn't have a ferocious rush, but they have a little talent up front and DeMarcus Lawrence is among the best edge rushers in the game.
The O-line didn't fumble or play soft defense. They just did the most important job in Tampa; protect Brady.
Joe even thought the push in the running game was pretty good, too, and it was the running backs that left some yards on the field.