Gameday Tampa Bay
September 9th, 2021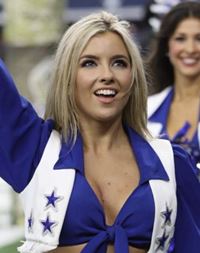 Cowboys (0-0) at Bucs (0-0)
Kickoff: 8:20 p.m.
TV: NBC (WFLA-TV Channel 8, locally), Peacock.
Streaming: Fans may stream the broadcast from Buccaneers.com or on a mobile device using one of the following: Buccaneers official app, or NBC Sports app or on Peacock. Geographic restrictions apply.
Radio: Buccaneers Radio Network WXTB-FM 97.9 in the Tampa-St. Petersburg region; 97.9 FM ESPN Radio in Tallahassee (Transmisiones de radio en español en WTMP-FM 96.1 y WMGG-AM 1470 en Tampa). Additional stations throughout Florida on the Buccaneers Radio Network can be found here. The game will also be broadcast on SiriusXM Channel 211 (Bucs broadcast) or SiriusXM NFL Radio Channel 88 (Westwood One national radio feed).
Weather: Per AccuWeather.com, a cool temperature for a September contest at the Stadium on Dale Mabry Highway. Look for a kickoff temperature of 80 degrees with a very light wind. Rain chances will slightly increase from 47 percent at kickoff to 51 in the second half.
Odds: Per BetMGM, as of midnight, Bucs -8.5; over/under 51.5.
Zebras: The game will be officiated by Shawn Hochuli's crew. This group leans heavily on throwing flags. Last season they threw the fifth-most of any NFL crew. And get ready for holding penalties. Hochuli's gang called the second-most offensive holding penalties in 2020. However, this group lets defensive backs fight for footballs. Only one other referee group threw fewer pass interference flags than Hochuli and his zebras.
Outlook:  The Bucs should clobber the Cowboys, no matter how you slice it. If the Cowboys want to have Dak Prescott, in his first appearance in any sort of game since rearranging his ankle last October, throw 30 or 40 times to take advantage of their stud receivers, the Bucs' pass rush should feast. If the Cowboys are concerned Prescott is too rusty and instead have him feed Ezekiel Elliott, that plays right into the hands of the Bucs' premier rush defense. Just in case you've been sleeping in a cave of late, the past two seasons the Bucs have led the NFL in rushing defense. On offense, Joe really wants to see how any defense is going to shut down the likes of Mike Evans, Antonio Brown, Chris Godwin and foot-rubbing, car-littering Rob Gronkowski. The only way Joe would expect that to happen is if an opposing secondary is loaded with Pro Bowlers. The Cowboys are not. The X-factor here is new Dallas defensive coordinator Dan Quinn. As an coordinator and head coach, his pass defenses are a mixed back. In Atlanta, his pass defense was sorry except for a No. 12 finish one season. As defensive coordinator in Seattle, his pass defense was excellent, leading the league both in 2013 and 2014 with fewest passing yards allowed. The difference here is that the Bucs can also run the ball when they put their minds to it.
Trinkets: … QB Dak Prescott had 1,856 pass yards and 12 touchdowns (9 passing, 3 rushing) in five games in 2020. Aims for his third in a row against Tampa Bay with a rushing touchdown. Has 5 touchdowns against 0 interceptions in 4 career games on "Thursday Night Football." Aims for his third in a row on "Thursday Night Football" with 300+ passing yards. … RB Ezekiel Elliott had 1,317 scrimmage yards (979 rushing, 338 receiving) and 8 touchdowns (6 rushing, 2 receiving) in 2020 and became the third player with 1,250+ scrimmage yards and 8+ touchdowns in each of his first 5 seasons in NFL history. Elliott has 297 scrimmage yards (148.5 per game) and a rushing touchdown in 2 career games against Tampa Bay. He has 333 scrimmage yards (111 per game) and 4 touchdowns (3 rushing, 1 receiving) in 3 career games on "Thursday Night Football." … WR Amari Cooper led the Cowboys with a career-high 92 catches and had 1,114 receiving yards in 2020. He had 12 catches for 173 yards and a receiving touchdown in his only career game at Tampa Bay (October 2016) while with the Raiders. Cooper has 3 receiving touchdowns in his past 3 "Thursday Night Football" games. … WR CeeDee Lamb set rookie franchise records in catches (74) and receiving yards (935) last season. … WR Michael Gallup had 59 catches for 843 yards and 5 touchdowns in 2020. He also had a receiving touchdown in the last meeting with the Bucs. … TE Dalton Schultz set career highs in catches (63), receiving yards (615) and receiving touchdowns (4) last season. … LB Jaylon Smith had a career-high 154 tackles in 2020. Smith also had 10 tackles and a 69-yard scoop-and-score the last time he played the Bucs. … LB Keanu Neal makes his Cowboys debut. He had 98 tackles and 9 tackles for loss in 2020 with the Dixie Chicks. … LB Micah Parsons was selected in the first round (12th overall) in 2021 NFL Draft. … DE DeMarcus Lawrence had a sack in his last game playing the Bucs. … CB Trevon Diggs tied for the lead among rookies with 3 interceptions in 2020. … QB Tom Brady tied for second in the NFL with 40 touchdown passes and ranked third in pass yards (4,633) last season. He became the first player in NFL history with 7 Super Bowl titles and 5 Super Bowl MVPs. Brady is the NFL all-time leader in touchdown passes (581) and ranks second in passing yards (79,204). Brady needs 300+ pass yards to join Drew Brees (123) as the only players with 100+ 300-yard games in NFL history. … RB RoJo set career highs in scrimmage yards (1,143) and scrimmage touchdowns (8) in 2020. … RB Playoff Lenny had 448 scrimmage yards (112 per game) and 4 touchdowns (3 rushing, 1 receiving) in the 2020 postseason. … WR Mike Evans had 1,006 receiving yards in 2020 and became the first player with 1,000+ receiving yards in each of his first 7 seasons. Evans had a receiving touchdown in his last game against the Cowboys. … WR Chris Godwin had 65 catches for 840 yards and 7 touchdowns in 2020. … WR Antonio Brown had 45 receptions for 483 yards and 4 touchdowns in 8 games last season. He has 9 receiving touchdowns in 10 career games on "Thursday Night Football." … TE Rob Gronkowski ranks third all-time among tight ends with 86 receiving touchdowns. … ILB Lavonte David had his 8th-career season with 100+ tackles (117) in 2020. David has 31 tackles (7.8 per game) in 4 career games against Dallas. … ILB Devin White had career-high 140 tackles and 9 sacks last season. He had 2 picks and two fumble recoveries in his 3 postseason games in 2020. … OLB Jason Pierre-Paul had his 5th-consecutive season with 7+ sacks (and a Bucs' team-high 9.5) last season. … OLB Shaq Barrett had 8 sacks in the 2020 regular season and 4 sacks in the postseason. … CB Carlton Davis led the Bucs with 4 interceptions and 18 passes defended in 2020.
The Last Word: In case the unthinkable happens and somehow the Cowboys win, remember that both times the Bucs won the Super Bowl they began those years with season-opening losses.
Every great story deserves a sequel.

And ours begins right now. pic.twitter.com/mr15oSvTSh

— Tampa Bay Buccaneers (@Buccaneers) September 9, 2021
Enjoy the Ira Kaufman Podcast, the annual predictions edition, presented by Bill Currie Ford.