Did Bruce Arians Forget He Was Here In 2019?
September 8th, 2021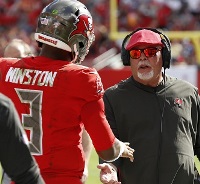 Bucco Bruce Arians was talking tonight and dropped an interesting nugget.
Speaking on SiriusXM NFL Radio, Arians said he's very confident the Bucs can and will be improved this season, though he acknowledged that's not always reflected in wins and losses.
"Whether or not our record's better, but I think our football team can be better," Arians said. "I think we're a smarter football team. You know, just having been with each other now for a year and having an offseason for the first time."
Joe heard that and wondered why Arians was saying this was the team's first offseason together.
Joe doesn't think it was a senior moment (also known as an Ira moment); Joe suspects Arians really feels like he has a totally different club after Tom Brady arrived last year, even if it is Year 3 of the Arians regime.
Regarding improving after a punishing Super Bowl victory, Arians added what he's said previously, that his young secondary is more seasoned when it comes to "pattern reading" and understanding the defense versus just knowing what to do.
"Hopefully our record can prove out that we have improved," Arians said.
Joe respects Arians take on the regular-season record. That's sports. Sometimes you play well and lose. Maybe luck isn't on your side, or the officials, or you run into playmakers that beat you. Or, for example, Antoine Winfield, Jr., doesn't make that game-ending pass breakup against the Giants last season.