Arians Talks Weekend Plan, 2022 Plan
September 8th, 2021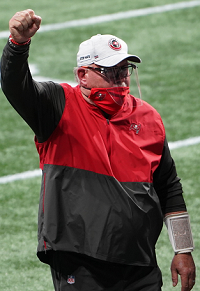 Bucs fans paying attention know where Bucco Bruce Arians has an obsessive focus.
That's on the virus.
Arians is convinced the Bucs beat the crap out of The Sickness last season and it was a key component of what got them a ring. Joe's not so sure, but hey, it's a unifying force and focus for the team, so it's all good.
Arians said on SiriusXM NFL Radio tonight that he was very scared the Bucs would come back from a recent four-day break with cases of the virus. It all worked out, but Arians acknowledged that it will be another challenge after he gives players three days off following tomorrow night's season opener.
"We gotta do it again!" Arians barked.
Joe hates praising any team for having few COVID cases because there's a lot of luck involved. So you won't hear Joe bash the Bucs if they have an outbreak.
Arians added that he likes all the work and bonding his team got this summer, even with some of the continued virus restrictions in place.
Those two practices with the Titans, look for the Bucs to double up in 2022. "I probably next year would like to work with two teams," Arians said.
Joe found that a little noteworthy, considering some folks think Arians would retire after this season if he won another Super Bowl.