Aaron Rodgers: Tom Brady Got What He Was Asking For Or Wanted
September 21st, 2021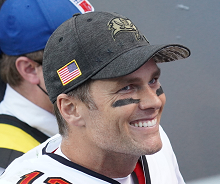 Yes, Tom Brady was in Aaron Rodgers' ear during his offseason saga that had fans thinking he might leave the Packers.
Rodgers acknowledged that this week on The Rich Eisen Show.
"Look, I think I know pretty much went on with [Brady] down there [in Tampa]," Rodgers said. "Different situation, you know I've been here for 16 years he was going to a new team. Obviously, a lot of the things that he was asking for or wanted he got, whether it was Antonio [Brown] or Gronk, or what not. Different situation. [Green Bay] is obviously very personal to me."
Joe's glad to hear Brady's friend (and Rodgers said they've been friends for many years) say the best Bucs quarterback in history had his wants/needs/demands met by the team. Hopefully, Team Glazer and friends will keep doing that at all costs — so Brady stays hungry to keep playing in Tampa.
Rodgers didn't share Brady's advice (hang in there and I'll see you in New Orleans next season?), but Rodgers did say talking to friends helped him get the "right perspective" on his limited-influence situation in Green Bay.