"We Still Have Doubters"
August 21st, 2021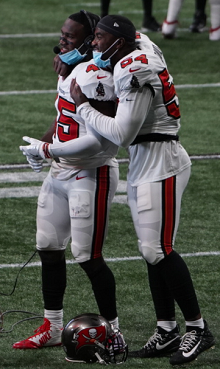 Somehow, Lavonte David found people, apparently a lot of them, who question what the Bucs accomplished last season.
Joe didn't know any of those people existed outside of drunks in New Orleans sports bars.
David was interviewed on the Bucs-Titans broadcast tonight and told the WFLA-TV audience that "we still have doubters." David made a couple of references to this bizarre phenomenon and said he hears comments that "it was a COVID season" and somehow that means the Bucs' Super Bowl ring is tainted in people's eyes.
Of course, it all makes no sense. But if David and other Bucs are finding motivation in this drivel, then Joe's all for it.
Oddsmakers everywhere have the Bucs as the favorite to win the NFC. Every starter is back. Every ticket is sold. And seemingly everyone everywhere believes in the Bucs.
But David is hearing sneers and jeers.
Keep getting mad, Lavonte. And tell Devin White all about it!