Hot Microphone Catches Run Game Doubting
August 21st, 2021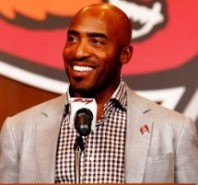 If you watch the live NFL Game Pass feed of Bucs preseason games, you sometimes hear things not meant for a live audience.
(Perhaps after this post, important people at One Buc Palace will make sure it doesn't happen again.)
When WFLA-TV goes to a commercial break, the NFL Game Pass feed continues. So at times you can hear play-by-play man Chris Myers chatting with game analyst Rondé Barber and sideline guy Dan Lucas.
Early in tonight's game during a commercial break, Myers said to Barber that the Bucs have been struggling to run the ball all preseason. Barber replied that the Bucs didn't run the ball well last season, noting that Tampa Bay ranked 28th in rushing last season. (Joe will add that the Bucs ranked 29th in total rush attempts and 25th in yards-per-carry).
The Bucs won the Super Bowl, so it's all moot. But it was interesting to hear ultimate-insider Barber acknowledge the Bucs' struggles pounding the rock.
And yeah, they didn't blow open holes tonight or last week.
It makes Joe wonder just how incredible Ronald Jones averaging 5.1 yards per carry was last season. Leonard "Playoff Lenny" Fournette was at 3.8 yards per carry in the regular season before he exploded in the playoffs against stout defenses.
It's rarely discussed, but if the Bucs' run blocking can pick up where it left off last postseason, it will be literally impossible to contain the Tampa Bay offense.