"He's Gotta Prove That He's Back"
August 21st, 2021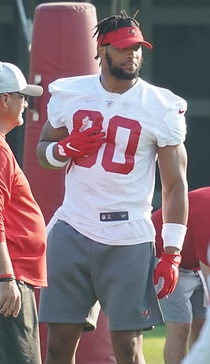 They call O.J. Howard "Juice" around One Buc Palace.
Tonight against the Tennessee Titans, he was more like sour milk.
Howard dropped two passes early from Blaine Gabbert and it had legions of Bucs fans wondering what's wrong.
Is Howard's healing Achilles affecting his hands?
Buccaneers legend Rondé Barber told the WFLA-TV audience that Howard's "gotta prove that he's back." And Barber speculated on the air that he doesn't know how healthy Howard is.
Last week, Barber said on the Bucs' preseason telecast that Howard was 70 or 75 percent healthy.
Howard played quite a bit tonight despite the Bucs having backup tight ends Tanner Hudson and Greg McElroy available. Cameron Brate and Rob Gronkowski got the night off.
Howard did get his first catch midway through the second quarter, a short throw followed by good fight for extra yards. And he got a second short target, as well. But he appeared to lack explosion on another throw that was high and on target. That was batted away by a Titans safety.
Joe's not worried about Howard — because Joe expected Howard to struggle for several weeks as he tries to get into game shape and get his Achilles close to 100 percent.
Breathe easy, Bucs fans. The Bucs won a Super Bowl without Howard.