The Antonio Brown X-Factor
August 9th, 2021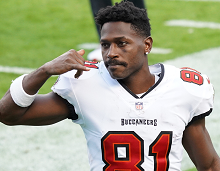 After six monster seasons in the NFL, seven Pro Bowl honors, multiple Super Bowl appearances and impressive career numbers, Antonio Brown already is a lock to be in the Hall of Fame one day.
Joe doesn't want to hear anyone argue.
Heck, with a nothing-too-special season this year, Brown will pass a good share of legends on the career receiving yards list, as well as on the total catches charts.
Brown was all smiles with media after practice today, repeating how he's now all about appreciation, gratitude and perspective as he enters this season at 33 years old.
Of course, fans have heard all about Brown's personal meltdown. It appeared to begin with his late-season-2018 quitter routine with the Steelers and end with him finishing probation in the Florida legal system earlier this year.
It's a new Brown now, fresh off the first surgery of his career. His knee is ready to roll and Bucco Bruce Arians said today that it had been an issue for Brown for years and now he looks to be playing with speed Arians saw four or five years ago.
Four or five years ago?? That's when Brown was arguably the best receiver in the game and posting massive numbers.
Brown said today he'd like to play for a long, long time. So it seems Bucs fans should consider that Brown is in a contract year, is hungry to keep playing, is healthier than he's been in forever, and Tom Brady gave him more targets per games played last year than any other Tampa Bay receiver.
Joe can only imagine what's pulsating through Brown's mind. If Brown has another year of 100 catches and 1,000+ yards, he'll break the NFL record he shares with retired receiver Brandon Marshall.
Man, Joe hopes Brown really has successfully re-wired himself to behave like a guy grateful of his opportunity and respectful of the game.
The thought of Brown being a 2017 flashback of himself means the Bucs very well could have the greatest offense in NFL history.
We are one month from opening day!