Shaq Tumbles 56 Spots In NFL Players Poll
August 15th, 2021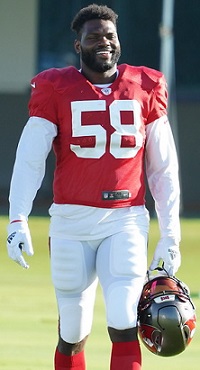 Now this is sure to rankle Bucs sacks king Shaq Barrett.
It's the time of year when the NFL Network Top-100 Players list is revealed, per the votes of many hundreds of players.
Last year, following his 19 1/2-sack season, Shaq was named the No. 32-ranked player in the league. Today he was ranked No. 88, one slot better than Bucs teammate Tristan Wirfs.
That's a big drop and Joe is confidence Shaq will be very annoyed.
Shaq is a on respect mission, and he'll tell anyone who's listening. Heck, he chewed Joe's ear off about it at the White House last month. Shaq wants to set the single-season sacks record this year and be named Defensive Player of the Year, and he's convinced he's in great position to pull it off.
Make them pay, Shaq!