NFL Network Top-100 Players: Tristan Wirfs No. 89
August 15th, 2021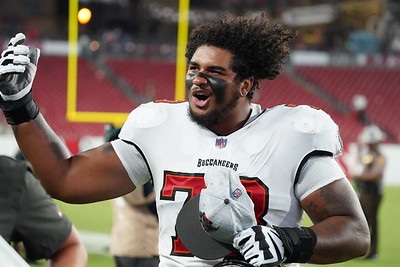 What an honor for rookie Tristan Wirfs!
He almost was in the same league as former Bucs rookie Mike "mattress-in-the-yard" Williams back in 2010.
That's the word from Wirfs' fellow NFL players Today it was revealed that Wirfs was voted the 89th-best player in the game per the NFL Network Top-100 Players in the NFL series. That's the annual players vote to pick the 100 best in the game.
Wirfs finished third at his position in All-Pro voting last year, and many believe he's the best right tackle in the game.
Williams, after his rookie season, was ranked No. 83, despite the Bucs fielding a no-name team and loads of good receiving talent in the NFL.
Joe looks for Wirfs to jump at least 20 slots next season.