Chris Godwin Ranked No. 81, Explains How He Broke His Finger
August 15th, 2021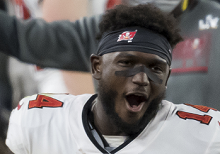 Chris Godwin telling his story of how and why he broke his finger last season (final minute of this video) is just freaking stunning.
The full video is Godwin's feature on NFL Network tonight when it was announced that fellow players voted him the 81st-best player in the league. (Last year, Godwin was ranked No. 38.)
Joe had never heard the broken finger background story previously. Godwin busted it up on a touchdown catch against the Raiders. In Godwin's mind, if you can't drag both feet in bounds, then find a way to do one toe tap and a finger drag — even if it snaps a digit.
Can Godwin get back to Pro Bowl numbers and his trademark ferocious blocking this year? Joe thinks so.
Enjoy the video.
Mr. YAC aka Mr. Clutch aka @CGtwelve_ 😤

📺: #NFLTop100 on @nflnetwork pic.twitter.com/psSeHjIqHG

— Tampa Bay Buccaneers (@Buccaneers) August 15, 2021