Scotty Miller Next For Punt Returns; Surprising Arians Evaluations
August 15th, 2021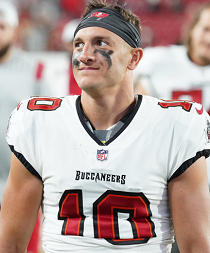 The Bucs had a special teams focused draft in many ways this year.
But it's fair to say the unit wasn't too special last night.
Bucco Bruce Arians spoke this afternoon and did not seem concerned by Ke'Shawn Vaughn's miserable results on three kick returns. The head coach blamed the blocking, but Joe will say Vaughn wasn't exactly a spark himself.
Joe also wasn't sure what Jaelon Darden was seeing on his kick return to open the game. Darden ran from the 8 yard line to out of bounds at the 17 yard line and didn't look like a rookie ready to explode out of a cannon on his first NFL touch. (For those reading the official stat sheet on Darden's return, it's got an error in it.)
Bucs Super Bowl returner Jaydon Mickens was very successful on his kickoff return and he was the only guy to return a punt, and that effort was good.
Arians talked today like Darden is a lock for the roster because he has a body of work as a returner in college. That really surprised Joe. Arians added he expects Scotty Miller to get his shot at punt returner in the next preseason game.
Joe's a little confused and really would have liked to see a lot more of Darden returning balls last night.
Keep in mind the Bucs have an emergency punt returner on the roster, a guy who is experienced and accomplished at the craft, Antonio Brown.