"It Was My Own Fault For Not Coming In The Way I Wanted To Be"
August 3rd, 2021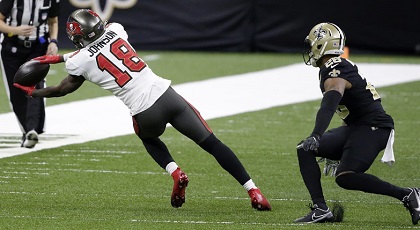 Bucs second-year receiver Tyler Johnson was manning up today before the lights and cameras after practice.
Johnson was asked quickly about Bucco Bruce Arians scolding him publicly for reporting to camp out of shape.
Johnson agreed with Arians' take and offered no excuse.
"It was my own fault for not coming in the way I wanted to be," Johnson said, adding that he's just trying to get at least 1 percent better each day toward his goals.
Later, Johnson talked about how "I represent the organization" and how important that and Tom Brady's trust is to him.
As for Brady's guidance to the second-year receiver who had two big plays in the playoffs, "He's heavy on me being quick at the line of scrimmage," Johnson said.
It was an intriguing comment considering the Bucs just went out and drafted a fourth-round receiver known for quickness. Johnson is a more physical receiver and was a fifth-rounder.
Joe's not down on Johnson, who turns 23 later this month. Though it's red flag to return to a Super Bowl winner out of shape, it's something he can/will learn from — hopefully.