Ego Talk With Chris Godwin
August 3rd, 2021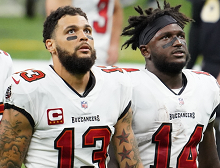 With Hall of Fame receiver (and personality) Michael Irvin at Buccaneers training camp today, you just knew there would be quality questions fired at a Tampa Bay receiver or two.
Irvin got his shot in after practice, demanding Chris Godwin tell his NFL Network audience how the Bucs figured out how to have a bunch of A+ receivers not screaming for the football — and willing to share.
Explain "the way you share that little precious thing we call a football," Irvin said to Godwin, adding that he's a much better man than Irvin ever was when it came to team-first receiver play.
Godwin talked about the lack of ego among Bucs receivers, including Antonio Brown.
Irvin zeroed in and wanted to know if Godwin, Evans and Antonio Brown, among others, ever sat down and had a formal chat about sharing and releasing ego.
Godwin replied that there was no official conversation but the topic has come up as he, Brown and Evans have their  three lockers alongside each other.
"We all kind of like came to the understanding; we're here to win," Godwin said. "If we want to make this thing like really shake, we gotta be all-in together and we can't have all this ego and stuff."
It is amazing how the Bucs have compiled a crew of pass catchers that may go down as the most accomplished in NFL history — and nobody is moaning yet about targets.
Joe sure hopes it continues, especially if all three tight ends are healthy and Giovani Bernard secures the third-down running back job.
Soooo… who got @TomBrady the best birthday gift? 😂@CGtwelve_ joined us from #NFLTrainingCamp! @Buccaneers pic.twitter.com/syKzZCOWH6

— NFL Network (@nflnetwork) August 3, 2021