"I Usually Only Talk To A Veteran Player"
August 24th, 2021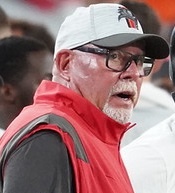 Interesting and slightly rare insight here from Bucco Bruce Arians.
The head coach was asked today to reveal some of what he says to guys who get cut. The Bucs, like most teams, are about to chop nearly 30 players after the preseason finale this weekend.
"I usually only talk to a veteran player," Arians explained, noting that the young guys who get released are advised by general manager Jason Licht and his staff.
Obviously, Licht and his team release several of those players and talk to them about joining the Bucs' practice squad if they clear waivers, but Joe finds it interesting that Arians doesn't find a few minutes to talk to each guy individually. He could probably get that done in two hours or less. It seems unlike the head coach.
Joe's not knocking Arians. Joe just thought Arians would be the kind of coach to schedule a brief exit chat for every young player. Hopefully, the released dudes get a little pep-talk time with their position coaches.