Arians On Tyler Johnson: Not Quite Chris Godwin
August 24th, 2021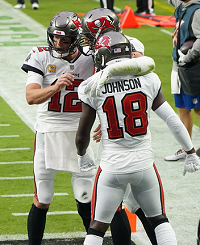 Chris Godwin is one of the great all-around players in the NFL.
Hardcore Bucs fans will remember what a beast Godwin was on special teams as a rookie. (The Bucs got smart and stopped risking him getting hurt on fourth downs — #JoeTryon.)
Then when Bucco Bruce Arians arrived, the offense called on Godwin to go in motion and hammer linebackers and defensive ends in the running game. Godwin, at roughly 6-1, 210 pounds, is damn good at it, drawing comparisons to Larry Fitzgerald and Hines Ward.
And per Arians' words yesterday, there's only one guy in Godwin's league in that area on the roster, second-year man Tyler Johnson.
"Tyler can do it. He [did] it last year," Arians explained about Johnson's blocking. "There's only one Chris. Chris blocks like a tight end. To get wide receivers to block like Tyler does, you're really happy, but I think Travis Jonsen is a guy in the future that might be another guy that's got the size and the physicality to go out there and do that as a wideout."
Notice how Arians didn't mention Jaelon Darden, Antonio Brown or Scotty Miller; they don't have it in them. Johnson does.
Joe asked Arians what the film showed on Johnson out of Saturday's game, where he had two early catches and was blocking up the gut in the run game.
"I thought he was pretty solid," Arians said. "He had a couple plays where I thought his experience level would have changed and helped us a little bit on that fourth-and-one when we were going quick. He should have been able to help Jaelon [Darden] on that blocking scheme a little bit. He's been there so many times, in that situation. But Tyler's coming along fine."
After getting knocked for coming to training camp too fat, Johnson has rebounded extremely well. And Joe expects to see plenty of Johnson on Saturday against the Texans.
The dude can play and is extra valuable in this scheme that wants to have a wide receiver block like Luke Stocker.