"I Don't Even Lift Weights"
August 22nd, 2021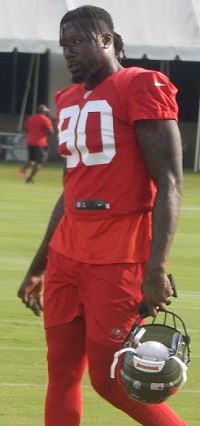 Is there a more unique dude on the Buccaneers than Jason Pierre-Paul?
The other day, Joe saw a clip on Instagram of JPP mowing his lawn, not a typical activity for a man earning eight figures a year.
JPP also let Bucs fans know recently that his knee injury was the worst on the team in 2020. (Who says that kind of thing?)
And the Super Bowl was a fresh memory in February when JPP declared that him not making the All-Pro team was a pile of feces and it's got him fired up and expecting to be respected in 2021.
Today, Joe noticed one of those goofy features on the Buccaneers' YouTube channel. Players were asked to name the strongest Buccaneer. JPP went off on a tangent and told the world that not only is he the strongest player on the Bucs, he does not lift weights.
JPP even demanded that Rakeem Nuñez-Roches verify for the film crew that he does not lift weights.
Imagine being a veteran defensive end consistently facing NFL left tackles and not pushing a weight. Hollywood really needs to make a JPP movie.