Jason Pierre-Paul Explains His "Fuel To My Fire" In 2021
February 24th, 2021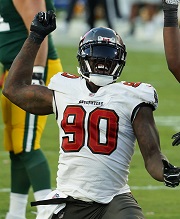 Imagine being a millionaire football player who literally blew fingers and chunks off your hand and then broke your neck in a highway car crash. Nobody would wag a finger at your for retiring.
But Jason Pierre-Paul isn't that guy.
In fact, the always fired up 32-year-old even finds new ways to motivate himself — when he's already one of the great warrior mentalities in NFL history.
A visitor to WFAN radio recently in New York, JPP was there barking about his lack of respect around the NFL. He was saying he should have been a Pro Bowler in 2019, and should have many more Pro Bowl honors to his name.
He was a Pro Bowler with the Giants in 2011 and 2012, and returned with the Bucs as the only member of the 2020 title team to get the nod.
Still, that wasn't enough love.
"I should have been All-Pro this year," JPP said. "Anybody that disagree check the stats. Look at'em, you know what I mean. I should have been All-Pro. That just goes as fuel to my fire for next year. You know what I'm saying?"
Joe loves JPP's attitude. It sounded there like he said, "Check yo sheet."
With four forced fumbles, six passes defensed and two picks in the regular season, in addition to his 9 1/2 sacks, Joe thinks JPP could have made a strong case for All-Pro.
Joe hopes JPP can get to the exclusive 100-sack club next year. He's 11 shy of the mark.
A couple of fun nuggets from JPP: he says he wants to play at least three more years, and Joe will add that JPP is an eye-popping 8-0 in playoff games.