Clyde Christensen: "There's No Chance Of Complacency"
August 12th, 2021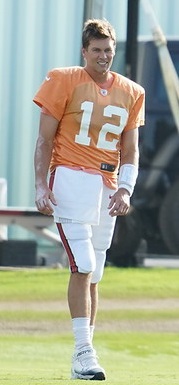 Some people fear the Bucs might lose a little hunger and set the pirate ship on cruise control at times this summer and fall.
Bucs quarterbacks coach Clyde Christensen thinks that's ridiculous.
"No complacency. You know, there's no chance of complacency," Christensen said Tuesday on The Pat McAfee Show.

"It was the same with Peyton [Manning]. This [Brady] guy is not going to allow that to happen. That's not even an issue. This guy just works and demands of himself and of the team and of the whole building. So it's really been fun. We've stayed healthy. I think he got that knee cleaned up, he feels better. You know I think he feels better physically. I think the whole camp's been a lot, lot better."
Man, it sure does feel like the only thing that can take down the Bucs is a Brady injury or some bad football luck.
What a beautiful time to be alive!
Christensen added that he feels the Bucs are a better team, in part because figuring out everything Brady felt good about in the offense last season was a long process. "That took all year," he said.