Q & A With GM Jason Licht
August 12th, 2021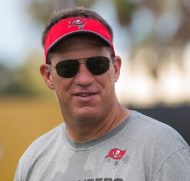 BY IRA KAUFMAN
On the brink of the preseason opener, GM Jason Licht took the time with me to discuss the state of the Bucs as training camp winds down.
Q: What are your impressions of training camp?
A: It's been extremely competitive. There's been more energy than I remember in the past years. Players are jawing back and forth, which is great. Lots of communication, getting better on both sides, and there's nobody sitting on their hands. Nobody is content with what we did last year, that's for sure. That started this summer when I spent some time with Bruce at his lake house. You could see the fire in his eyes and that's going to bleed into the whole team. It already has. It's been a lot of fun so far.
Q: Is it fair to say that shortly after the boat parade, everyone in the organization began guarding against complacency?
A: Bruce has done a phenomenal job in that regard. He held a team meeting before the boat parade and put the message out that it was last year's team — we're starting out with a different team. Everybody got the message. We enjoyed the boat parade and the visit to the White House of course, but everybody was ready to get back to work.
Q: What part does Tom Brady play in warding off complacency?
A: He plays a huge role, and everybody listens to him. A lot of people would have hung it up after winning three Super Bowls. He wants to win another one, and probably another one. He's on top of it. When you have a head coach and a quarterback who are both on the same page in that regard, everybody else is going to follow.
Q: What are your feelings about this roster? Many people are saying the Bucs have a legitimate shot at repeating.
A: There's a lot of great players here, and that's a credit to our coaching and scouting staff. It's also a credit to our owners for letting us bring everyone back. Leadership here is off the charts.
Q: What young players could take a big step up this fall?
A: Mike Edwards has been having a fantastic camp. In fact, the entire secondary has taken a step up. Even Antoine Winfield, who was a great player last year. That whole secondary has been a lot of fun to watch this summer.
Q: What could a healthy Vita Vea mean to the 2021 Bucs?
A: You mean the same thing he meant to us when he came back for the NFC championship game and the Super Bowl? Vita's an impact player. He's a freak.
Q: A lot of people are gushing about your first-round pick. Just how impressive has Joe Tryon been?
A: We're very, very happy with what Joe's done out here, but we haven't played a game yet. It's rare because most of the time rookies need a lot of development when it comes to their repertoire, their arsenal. You can get away with certain things in college. But I'll say this: Joe was extremely well coached at Washington. That's a great program.
Q: How are things going with the Covid issue?
A: Knock on wood, last year I was extremely proud of all the protocols we adhered to, all the protocols that we set and the enforcement that Bruce had. It's a full-time job for (Director of Athlete Performance) Greg Skaggs. It can derail you for sure, as it did for a lot of teams. And, we're in the hotbed.
Q: Injuries are a fact of life in the NFL. How are you feeling about the depth on this roster?
A: Coaches will grade a practice and think some are better than others. As a general manager, if there's no injuries, it's a great practice. Depth played a huge role in our championship season, whether it was Aaron Stinnie, A.Q. Shipley, Kevin Minter, Steve McLendon or Khalil Davis. We played with two backup safeties in Green Bay, so it played a key role. It shone the light even more on how critical depth is for your team.
Q: Giovani Bernard could prove to be a valuable addition. How will his pass-catching skills help this offense?
A: He definitely brings another dimension.
Sage JoeBucsFan.com columnist Ira Kaufman, Tampa Bay's only Hall of Fame selector, is presented by Bill Currie Ford, Tampa's first family of Ford for the past 61 years. Dealership GM Sean Sullivan, Ira's good friend. is waiting to give you the Ira Kaufman Discount and to help you personally with any question you might have.