Calculated Quiet From Bruce Arians
August 8th, 2021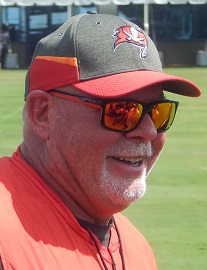 Two weeks into Bucs training camp and one off-field reality stands out.
One of the most popular — and accommodating — interviews in the NFL, Bucco Bruce Arians, has been just about fully removed from the national stage.
And trust Joe, the requests for him poured in.
Of course, Arians has done his mandatory news conferences at One Buc Palace after practice, but Joe believes the coach has been otherwise invisible outside of a five-minute sitdown after one practice with NFL Network.
Joe is confident that Arians knows if he does interviews, either with his 2018 colleagues at CBS or good buddy Bill Polian on SiriusXM NFL Radio, for example, he inevitably will be asked about the Super Bowl and last season. Arians has ordered players to forget last season, so he's sort of walking the walk on not putting himself in positions to dredge up the Super Bowl win.
Joe likes the strategy, though Joe misses hearing Arians all over the place.
Notice how Bucs players and assistant coaches have largely been shunning national interviews, as well. It can't be a coincidence.