Jaelon Darden Says He's Working Mainly Outside And Isn't "Fully Comfortable"
August 8th, 2021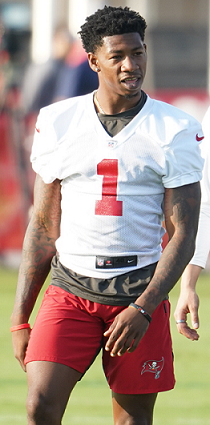 The Buccaneers' little speedster rookie fourth-round pick receiver isn't settled into a slot role and feeling like he's on top of the mountain.
And that's totally ok and expected.
Jaelon Darden joined The Salty Dogs podcast at Buccaneers.com and sort of gave a state of the rookie address.
Darden said he's playing outside particularly and "after I learn the offense, then we'll see what the coaches would like me to do."
As for learning the playbook, it's been a challenge. Darden said plays at the University of North Texas were one-word calls. Now he's dealing with complex language. "That's the hardest thing right now," he said.
The former high school quarterback says he "still shocked" by getting drafted to play with Tom Brady, and he totally remembers the first practice pass he caught from The Goat.
Yes, he's been praised by Bucco Bruce Arians for his knack of getting open consistently, but Darden said he hasn't put his game on display yet.
"I honestly don't feel like I've been able to show everything because I'm still learning. I'm not fully comfortable yet," he said. That clashed with him telling local media last week "I'm definitely feeling comfortable," so Joe will let fans interpret that as they wish.
Darden referenced working on tracking the ball and overall he seemed to have his head exactly where it needs to be.
Under the Commander Schiano regime, Darden would have been described as a Buccaneer Man.