A Non-Update Update On Cameron Brate
August 2nd, 2021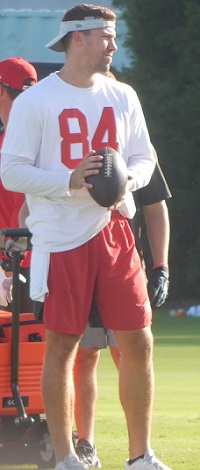 Bucco Bruce Arians opened his first training camp news conference with an edict.
Don't ask about injured players!
Or allegedly injured players. (There are no injury reports in the summer.)
Arians was adamant that he wasn't going there. Of course, he would have fielded those questions since big names like O.J. Howard and Cameron Brate, among others, weren't practicing on Day 1.
Arians never said how long his order was in place, so Joe asked Arians a week later (yesterday) if he could/would share update on the status of Brate. Joe got a simple answer, "No."
Today, Arians was asked about outside linebacker Cam Gill missing time, and he said, "We'll just have to wait and see," adding that a couple of guys are out and are just day-to-day. Is Brate among them?
It seems like it'll just be one of those years when injuries are kept super close to the vest. Joe knows Sage JoeBucsFan.com columnist Ira Kaufman made a couple of well-placed phone calls to inquire about Brate's injury and was shut down as if he was asking for the nuclear codes.