Bucs Training Camp Practice Notes Day 8
August 2nd, 2021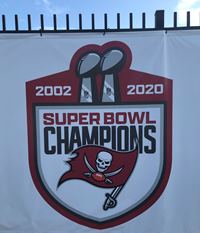 The practice was barely 30 minutes long when the word was given: Head to the Glazer Shed.
Selfishly, Joe enjoyed this immensely because that meant sitting high in the bleachers with a full view of the field in glorious air conditioning.
* Antonio Brown toe-taps a pass from Tom Brady along the left sideline. It would not be the last time Brown made a play this morning.
* Blaine Gabbert goes deep down the middle and is picked off by Jordan Whitehead. It wasn't an awful pass at all. Just that Whitehead made a crazy play on the ball chasing it down.
* Brown catches a bomb from Brady, weaves through traffic and scores. As he crosses the goal line, he laughs and hollers.
* Giovani Bernard with a big gain up the middle but… underwear football/soccer practice returned today. So no hitting.
* Chris Godwin makes a sliding catch of a Tom Brady pass as he crossed the middle coming from the right side.
* Brady pump-fakes right and fires downfield over the middle for Brown for a beautiful touchdown bomb.
* Travis Jonsen catches a slant pass from the left, thrown by Gabbert. Joe could hear what sounded like Brady yelling, "Nice!"
* Brady tries to connect with Brown along the right sideline but it was just a wee bit too far out of bounds.
* Mike Evans gets behind the defense on the left side and Brady hits him for a long touchdown. In Joe's eyes, Evans is having the best camp for the Bucs with Devin White right behind him.
* Goal line drills: Brady hits Bernard at the goal line for a score.
* Rare pick: Brady targets Chris Godwin over the middle and he's picked by Whitehead.
* Gabbert throws to the right flat and nearly is picked by Antonio Hamilton.
* Gabbert throws wide left for Tanner Hudson but Hudson somehow stretched out an extra inch or two and was able to haul the pass in for a score.
* Gabbert looks off the defensive backs and throws left connecting with Jaelon Darden for a score. Darden was fairly wide open.
* Brady throws a screen to the left for Playoff Lenny. But he didn't like the ball in his hands and left it on the turf. Accidently of course.
* Brady throws to the left for a score to Scotty Miller. Next play Brady throws right for Evans who makes the play look too easy.
* Ross Cockrell picks Ryan Griffin. More on Cockrell in a moment.
* Joe couldn't ID the left tackle on this play. The two numbers Joe thought it may have been (hard to tell sometimes in a scrum at the line) are either a backup guard or center, so Joe isn't sure. But Joe Tryon jabs a left tackle square in the chest to knock him off balance., though Tryon didn't get a tackle or a sack with the play
* Back to position drills. This was cool for Joe: Defensive tackles practicing going back into pass coverage. Yes, defensive tackles.
* Darden drops a Brady pass on a slant route. Might give Whitehead credit for racing in and possibly getting a hand on the ball.
* On the very next play it looked like the exact same route run by Darden and this time he scores.
* Jaydon Mickens hauls in a Brady pass on the right side and he is quickly blasted by two defenders.
* Brown is just ripping apart the Bucs' secondary this morning. This time Brown gets open over the middle and he scores six.
* Tyler Johnson is open over the middle and Brady hits him.
* Kyle Trask runs right and fires downfield to the right side, connecting with Jonsen deep.
* Next play Trask goes way deep for Mickens and completes the pass for a touchdown.
* Playoff Lenny with a big run up the middle.
* Ronald Jones with a nice run around the right side.
* Brady connects with foot-rubbing, car-littering Rob Gronkowski down the left seam. How much of a mismatch is he? Well, after he caught this pass, the Bucs' defensive backs didn't even try to touch him or maybe knock the ball out. Just flew up the white flag. Who wants to tangle with Gronk in underwear football?
* Gabbert hits Johnson right on the belt at the goal line for six. This is despite excellent coverage by Herb Miller.
* On a Brady pass, Johnson skies between two defenders but can't bring the pass in. Ross Cockrell and Sean Murphy-Bunting were on the coverage.
* Cockrell with another interception. It was a bad throw by Griffin. There were no white (offense) jerseys around.
* T.J. Simmons catches a pass in stride from Trask at the goal line for a score.
* Gabbert throws a bomb to Mickens between the hashmarks for a touchdown.
* On the next play, Brady launches a bomb and Chris Godwin has it for a score.
* Brady targets Darden down the left seam in the end zone and Darden easily catches the ball for a score.
* Cockrell gets his third pick of the morning.