O.J. Howard Says Injury Was One Of The Best Things To Happen
August 2nd, 2021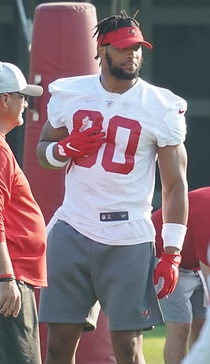 It might be time for O.J. Howard to teach a course in positive attitude.
He blew out his Achilles in Week 4 last season and headed for the surgeon's table. That meant sitting and watching while his team thrived without him and won a Super Bowl.
Howard was brought back this season at roughly $6 million for 2021. (Yes, that makes a positive attitude a lot easer.)
The Bucs have been patient with Howard in his recovery, he said today, and he added that he feels fantastic on the practice field but is still taking a deliberate approach.
Overall, Howard said the injury has been a great blessing for his career.
"I changed my whole regimen about how I get ready for practice, my recovery now. The injury is really one of the best things that's happened to me because it just made me realize my body and learn it a lot better," Howard said. "You know, because if I stay healthy, everything else is going to take care of itself. My biggest focus has just been preparing my body to go 17 weeks plus and, you know, being available for me time. Because when I do that, I know good things will happen."
Hopefully, Howard isn't the injury-prone dude he seems to be and can transform himself into being a reliable performer. He'd missed 22 regular-season games in his four season since getting drafted by Tampa Bay in Round 1 back in 2017.
Howard said he spent a lot of time this offseason scrutinizing film of who he considers the three best run blocking and pass catching NFL tight ends. (No, he didn't give names.) And Howard said he already feels that learning translating to the practice field.
Enter another August of hoping Howard lives up to his immense talent. Joe sees any forthcoming production from Howard as a major bonus for a roster that's loaded without him.