Tom Brady Talks Mentality Of Injury Rehab
July 22nd, 2021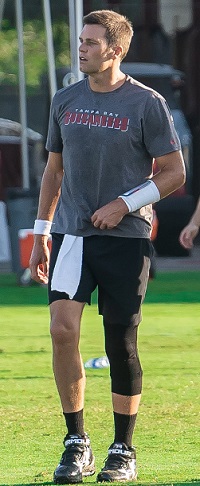 The fearless leader of our Super Bowl champion Tampa Bay Buccaneers, The Goat himself, had an interesting share last night.
Tom Brady joined his longtime media buddy Jim Gray for a prerecorded chat on SiriusXM Mad Dog Radio.
Many subjects were on the table, including Brady's offseason knee surgery. Yeah, in typical Brady fashion he gave little detail, but Brady did drop a nugget on his mentality toward rehab.
Remember, Brady previously said he busted up that left knee (allegedly a torn MCL) in April or May of 2020. But he figured out how to manage it rather than take on relatively minor surgery.
After this season, Brady had the surgery and dove head first into rehab.
But why didn't Brady get the knee cleaned up last spring, and then take two or three months to heal and hit the ground healthy with the Bucs?
An honest answer may never be forthcoming, but Brady did share yesterday that rehabbing this spring meant no issue with Bucs preparation or fear of missing a game. "I'm not going to have to relearn how to play football," he said, implying that he expected a big 2020 learning curve with the Bucs.
Speaking about his unfamiliarity with the Bucs last season, Brady said he didn't know the cadence of his playcaller on opening day or how Bucco Bruce Arians and his teammates handle game-week prep, among other things.
"I literally didn't know where to sit on the bench," Brady added.
It all sounded to Joe like a guy who should have — and could have — had knee surgery last spring but was too scared to let it affect his preparation with a new team. And now that same guy isn't worried about a damn thing because he's comfortable.
What a living legend.