Tom Brady Says There's Consensus Across The Bucs
July 24th, 2021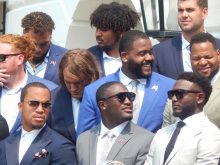 It's hard to get a big football roster to agree on everything. (No, this story has nothing to do with vaccines.)
But there's one thing Tom Brady believes is universally accepted across the team, so he told SiriusXM Mad Dog Radio this week.
"I don't feel like any of us on our team felt like we were a finished product," Brady said of the Bucs' 8-0 finish last season. "Still ascending," is how Brady characterized the Bucs, and he said he felt they left points on the board in all four postseason games.
Brady acknowledged that he thinks its a little cheezy to say the Bucs weren't there best after a Super Bowl blowout, but Brady said it's just fact and he still thinks about lost opportunities.
Will the Bucs be "the hunted," as Bucco Bruce Arians called it?
"Absolutely you become the measuring stick for everyone. … "Teams say, hey, we lost to them by 5 points." Brady said about defending a Super Bowl crown. But he did not concede that teams necessarily would play harder against the Bucs in 2021.
Joe thinks there's consensus among Bucs fans, too. This team certainly can be significantly better this season. A wild thought.
Back from the White House with a decision to make. pic.twitter.com/mSHrFQzKw0

— JoeBucsFan (@JoeBucsFan) July 20, 2021