Veterans Arrive At One Buc Palace
July 24th, 2021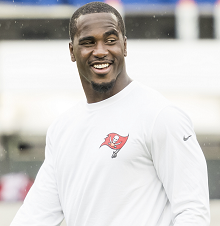 Wake up!
It's officially football season.
Joe's been training, jogging, drinking a little less Big Storm beer and now celebrating.
Bucs veterans reported for duty this morning at One Buc Palace. It's a day of physicals and meetings before tomorrow's opening practice. Quarterbacks arrived for "quarterback school" days ago, as did the rookies, per NFL labor rules.
Tampa Bay is reporting before most teams because they start their regular season three days earlier against the Cowboys on Thursday Night Football, Sept. 9 at The Licht House.
Joe hasn't heard rumblings of any players not reporting, outside of safety Jordan Whitehead on the COVID list.
The long but sweetly shortened wait is over. Joe is happy for the couple thousand fans who will get to watch practice tomorrow. Hopefully, Team Glazer will do the right thing and open a few practices to the general public. As of now, only season ticket holders, sponsors, media types and special event invitees will get in.
"First day of school!"

Welcome back, vets 👋 pic.twitter.com/WwwHc81Sd1

— Tampa Bay Buccaneers (@Buccaneers) July 24, 2021