Another Patsy Finish Perfect For Tom Brady
July 12th, 2021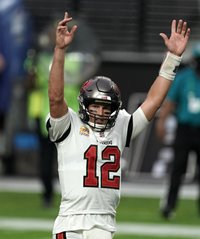 A Tom Brady philosophy was shared last week and it has Joe smiling.
In the recent episode of In The Current, the Buccaneers.com miniseries looking back at last season, Brady explained how great and important it is to hammer opponents leading up to Week 1 of the postseason.
"Anytime you get a chance to know that when you win a game you advance to the playoffs, you don't want to necessarily back your way in by someone else losing or someone else faltering," Brady said. "You really want to put your best out there so that you can look at that performance and go, 'Yep, that's why we're in the playoffs, because of performances like that.'"
Joe realizes Brady's comments may seem like a no-brainer, but they're not. A lot of QBs and/or players would say that however you get to the playoffs is a good way and the postseason is a fresh beast.
The Bucs finish the 2021 season as follows: at Carolina, at Jets, home for Carolina. Yeah, anything can happen in the National Football League, but those are two subpar football teams with new, young quarterbacks.
Just about everyone from Vegas to Valrico expects the Jets and Panthers to leave this season as losers.
Tampa Bay wrapped up last season with three games against losing teams that already had fired their head coach: at Atlanta, at Detroit, home for Atlanta.
The Bucs had a ferocious comeback to win at Atlanta, 31-27, before Christmas. And then they clinched a playoff berth by pounding the snot out of the hapless Lions, 44-7, the following week. They finished off by crushing Atlanta, 44-27, behind an eye-popping offensive show.
So if you accept the Brady theory on steamrolling into the playoffs, the Bucs are primed for a couple of blowouts again before embarking on another Super Bowl run for the ages.
Could a Bucs fan ask for better than the Jets on the day after New Year's?