Media Still Selling Chiefs Three-Peat
July 13th, 2021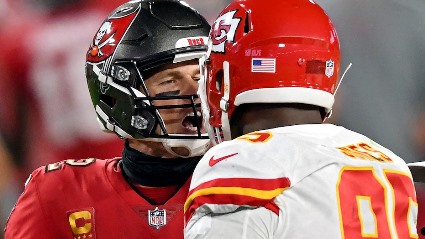 Joe is smelling a trend, and perhaps it's the kind Tom Brady can use to his advantage.
Watching BSPN TV this week, Joe saw the resurrection of the tired and old Chiefs three-peat chatter but in a different form.
Hey, never mind that the Bucs gutted Kansas City in the Super Bowl; a three-peat now apparently has morphed into something else, which is just getting to the Super Bowl in three consecutive seasons.
Other teams have done it, including Tom Brady's old team (2016, 2017, 2018). So it's not uniquely special. But the media seems to be all over it, and Joe senses a strong hint of them rooting for the Chiefs. (Joe's heard the same Chiefs angle on other outlets, too.)
That makes some sense. The Chiefs becoming a dynasty is more exciting for generally lazy national media types than Brady, Bucco Bruce Arians and the very old Bucs roster winning it all again and potentially getting a new head coach and an overhauled team.
Regardless, the Big Media spin has Joe pissed off on this hot Big Storm summer day.
If there's any NFL talk out there of a dynasty, Joe believes it should revolve around Tom Brady sticking around another two years and the Bucs continuing to win the NFL Draft and free agency.