The Bucs Are Really Old
July 11th, 2021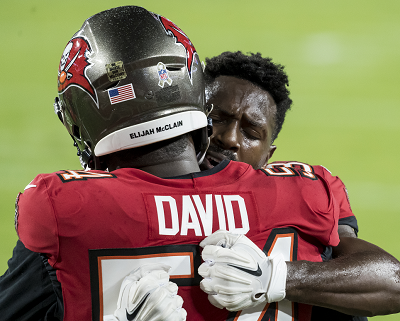 The oldest defensive player in the NFL is on the Tampa Bay roster, as is everyone's favorite ancient gunslinger, Tom Brady.
But the magnitude of the Bucs' old-man club runs deeper.
Ben Volin, longtime Patriots/NFL writer of the Boston Globe took some shots at Tampa in his latest column but Joe will ignore them today.
What did grab Joe's interest were nuggets on the NFL's endangered species: players 30 or older.
"The NFL has been getting younger and cheaper in the past decade … of the 2,880 active players, only 274 (9.5 percent) are age 30 or older," Volin wrote. 
So Joe got a calculator and did a little research. The Bucs have 17 guys that will be 30 or older before opening day. That means about 6 percent of the NFL's old men are on Tampa Bay's roster. That's a big number in a 32-team league.
Defensive tackle Steve McClendon, 35, is that oldest defensive player in the league. Newcomer running back Giovani Bernard turns 30 before Thanksgiving. 
Joe's not sure what this all means for 2021, if anything, but logic says the Bucs have hard work ahead of them to remain a lasting contender.