Embracing "The Lead Role"
July 22nd, 2021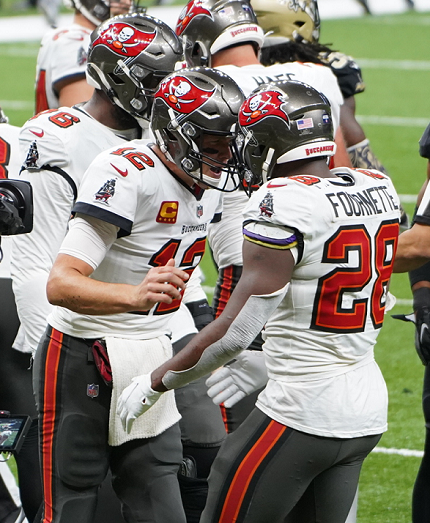 The man holding the cards on the Buccaneers' fierce running backs competition had an interesting one-liner.
No, Tom Brady is not the guy calling the shots on backfield personnel; the grand overseer is Bucco Bruce Arians. And during the latest episode of In The Current, Arians talked about the explosion of Leonard Fournette late last season in "the lead role, which he really embraces."
Interesting choice of words.
Yeah, every running back wants to be top dog, but Fournette has proven it means a little more to him than most. After all, that's all Fournette knew in college at LSU and as the No. 4 overall pick of the Jaguars. Then he landed with the Bucs and admitted to being down about his uncertain role behind Ronald Jones.
Pouting almost got Fournette cut, per Arians, but he saw the light and was a terror in the postseason.
But now what?
This is where Arians might earn his giant paycheck most this summer.
Sure, the Bucs could win a boatload of games without much of a running game, but it's still necessary to play the style Tom Brady thrives in. And Brady's satisfaction remains Priority 1 for the organization. Also, a run game typically proves critical in the postseason, as was the case for Tampa Bay last year.
So Arians may — or may not — need a magic touch to keep Fournette in a mindset where he "embraces" (Arians' word) his role while still making sure RoJo is happy in a contract year following the most efficient rushing season in Bucs history. And meanwhile, general manager Jason Licht already said newcomer Giovani Bernard will change the offense.
Oh, and then there's Ke'Shawn Vaughn.
Work your magic, Bruce!