Best Bucs Rushing Season In NFL History
May 18th, 2021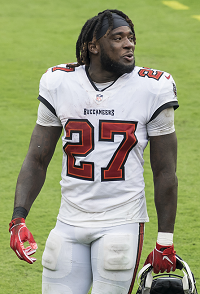 Only one full-time Tampa Bay running back since the Bucs took the field in 1976 accomplished what Ronald Jones did last season.
Joe is not exaggerating or twisting numbers.
RoJo averaging 5.1 yards per carry in 192 attempts is the best single-season mark in the history of the franchise for a full-time ball carrier.
In 2005, Michael Pittman had 70 carries for a whopping 436 yards (6.2 yards per carry) as a complement to Cadillac Williams. But that's just five carries per game, whereas RoJo had the 12th-greatest running load in the NFL last season despite missing two games.
So feel free to laugh at anyone who suggests RoJo isn't a strong starting running back or he should be looking over his shoulder. Yes, there's a load of competition in the Bucs' backfield, but RoJo is indeed coming off the best season a Buccaneer ever had running the football.
Once that handoff happens, it's all about production. And no Bucs fan has ever seen production like RoJo delivered last season.