Ex-Bucs QB Predicts MVP-Level Season For Jameis Winston
July 30th, 2021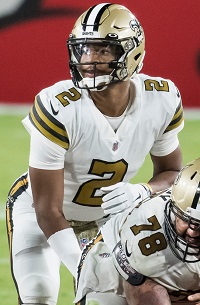 Joe wasn't going to type this up, but hey, it's Friday. And it's certainly interesting.
As NFC South observers know well, the Saints have a legitimate starting quarterback competition going on now: Taysom Hill versus America's Quarterback, Jameis Winston.
Hill was effective and protected the football well last season, beating out Jameis for the Drew Brees backup gig. As for talented Jameis, well, he is trying to overcome a nasty habit of giving the ball away at historic rates.
Enter Shaun King, one of four quarterbacks to lead the Bucs to the NFC Championship Game. The former USF assistant coach is one of Joe's favorite media analysts: smart, informed and always with a fresh take that doesn't wreak of some form of BSPN-like hype and nonsense. And King is a lifelong Bucs fan from St. Petersburg.
King visited CBS Sports Radio yesterday and was asked about Jameis' prospects this season. What came out of his mouth was emphatic and had Joe hitting rewind a few times.
"MVP-caliber season," King said of what he expects from Jameis. "Sean Payton is probably the most foremost guru genius at getting pieces to fit and do things that they're good at. Don't forget. Jameis threw for 5,000 already. He's indoors now in an explosive offense with a guy who's going to try to run it up every week — MVP conversation."
For the record, King was not asked about the Bucs. But Joe has to wonder, if King thinks Jameis is poised to be in the "MVP conversation," then King must think the Saints are about to drop a 12- or 13-win season.
It would be wild if the Bucs and Saints run No. 1 and No. 2 all season the battle for the NFC's top seed.
Joe is confident the Bucs are much better than the Saints. And for those wondering, Joe doesn't think either Saints QB will have a very special season.