Bruce Arians, Tom Brady And Play-Action Passes
July 12th, 2021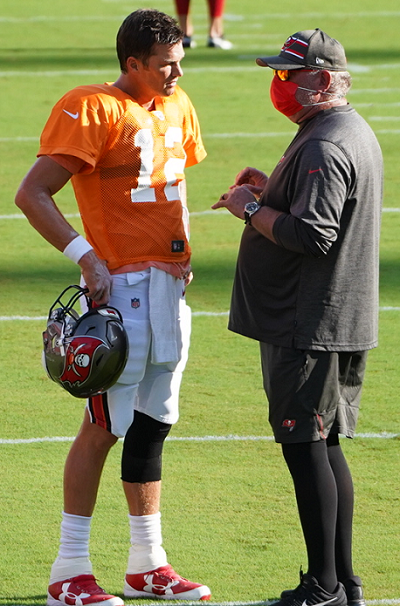 So what happened to the Bucs offense that made it go from mediocre with exceptional talent to juggernaut in the last few weeks of the 2020 season?
Super Bowl-winning coach Bucco Bruce Arians and his quarterback will have you know that the playbook finally clicked late in the regular season loss to the Chiefs when the Bucs mounted a valiant comeback.
Noted NFL Films X's and O's guru Greg Cosell recently stated there is no question the offense, specifically Tom Brady, began humming after the bye week (first game after the Chiefs loss). And Cosell's comments seemed to back up the claims of playbook absorption by Arians and park-violating, home-invading, NFLPA-ignoring, down-forgetting, handshake-stiffing, jet-ski-losing, biscuit-baking, tequila-shooting, smartphone-phobic, waffle-grilling, trophy-throwing, roller-coaster-scared, numbers-rules-peeved, Bucs-Super-Bowl-winning quarterback Brady .
A guy who used to cover the Bucs locally and now types for Football Outsiders suggests the change was much deeper than Cosell believes. The Bucs fully changed how they called and ran plays, per Thomas Bassinger, and this directly led to a major production spike.
When they used play-action or motion, their efficiency improved dramatically. On non-play-action passes, they averaged 6.3 yards (17th); on play-action passes, they averaged 9.3 yards (second). On non-motion plays, they averaged 4.9 yards (30th); on motion plays, they averaged 6.5 yards (third).

… [A]nd after the bye week, the offense's play-action and motion rates spiked. Over the final four weeks of the season, the play-action rate rose 7 percentage points—the fourth-largest increase in that span—and the motion rate rose 10 percentage points. Tampa Bay's efficiency didn't suffer, either. In fact, no team averaged more yards on play-action passes or motion plays. And in the Super Bowl, the Buccaneers relied on play-action and motion even more, using play-action on nearly half of Brady's dropbacks and motion on about three-quarters of all plays.

The Buccaneers didn't go from inconsistent to invincible because "things just clicked." They went from inconsistent to invincible because they leaned into their strengths. So, rest of the NFL, there's your winning formula: Sign Tom Brady and do more of the things you do well.
Using more play-action was a subject of discussion early in the season, but the Bucs sort of blew it off. Joe vividly remembers Bucs offensive coordinator Byron Leftwich, when asked why he doesn't call more play-action because positive results of these types of plays were so clear.
Leftwich's response? He said he didn't know. (And this from a guy allegedly in charge of the Bucs offense.)
Now feel free to concoct your own conspiracy theory here (if you believe there is one). Did Brady really not fully know the Arians' playbook until the Chiefs game? It's possible. Or did Arians capitulate to Brady and radically decide to start crafting the offense more toward what Brady wanted? Or was Brady checking out of play-action calls?
Joe isn't sure there is an exact answer.
What Joe does know is the Bucs were a different team after the loss to the Chiefs and are still undefeated since that day.
If that is the type of offense we can now expect, this is going to be an especially fun season.