Breaking Down The White House Pose
July 21st, 2021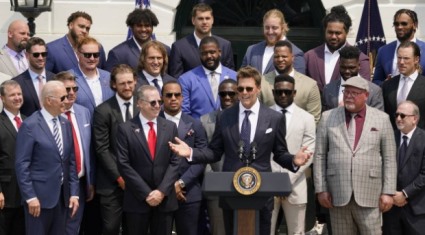 Yes, the Bucs made history yesterday. Franchise history.
The reigning Super Bowl champions visited the White House. The first time the honor was ever bestowed on a Bucs team.
(No, the 2002 Super Bowl champion Bucs never got the chance — though last year Derrick Brooks had a sitdown in the Oval Office.)
So of course this historic day was detailed by "Good Morning Football," seen weekday mornings on NFL Network. And Kyle Brandt did a deep dive on the team photo at the White House.
Some Brandt highlights were Scotty Miller's Pee-wee Herman look, hiding Shaq Barrett, Bucs AC/DC-loving general manager Jason Licht's ability to pull off a Metallica roadie-outfit and a sharp-dressed man blue business suit ensemble, the missing Bucs and more.
You can view the segment below in the NFL Network video.
"34 million dollars guaranteed and he can't even get a guaranteed picture in the team photo."

Another classic @KyleBrandt photo breakdown.

Enjoy.@Buccaneers @TomBrady @ShaquilBarrett @MillerTime___10 @jasonrlicht @TristanWirfs74 @DevinWhite__40 @RobGronkowski pic.twitter.com/nTrreR96Ym

— GMFB (@gmfb) July 21, 2021